24 Jun 2014
Top Ten Tuesday #3: Signs that you might be reading a good book.
1.
No sleeping.
2. No eating.
3. A sudden desire to find someone like the love interest in the book.
4.
Slight drooling over certain moments.
5.
Sudden bursts of emotion.
6.
A need to share with the world just how fantastic the book is.
7.
The realization that this book WILL end, eventually. And feeling ridiculously torn.
8.
No socializing.
9.
Extreme comparisons are made between your life and the characters' lives in the book.
10.
Making irregular noises at three in the morning because something amazing just happened.
23 Jun 2014
The Isobel Journal by Isobel Harrop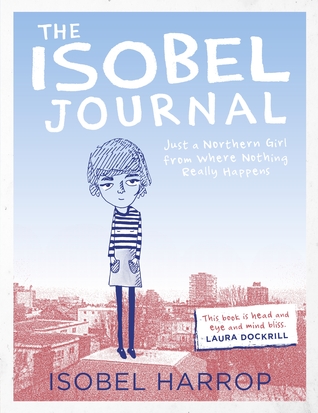 Title: The Isobel Journal
Author: Isobel Harrop
Publication: On August 1st, 2014 by Capstone (Switch Press)
Genre: Sequential Art; Contemporary; Young Adult
Format: eBook, 208 pages
Source: Netgalley ● I received a free copy in exchange for an honest review.
Purchase at:
Amazon
;
Book Depository
THE ISOBEL JOURNAL is no ordinary snapshot of a contemporary teenage life. A charming and vivid narrative scrapbook of the eighteen-year-old author's sketches, mini-graphic novels, photographs and captions, it captures her wit, her observations and her creative talent as she takes us through the three central themes in her life: 'Love', 'Friends, Art and Otters' and 'Me'.
I requested this book from Netgalley because of the cover. I was pitiably attracted to it and I was expecting from book to be somewhat like Diary of Anne Frank. I was not able to read it for days from the day I sent it to my reader.
But it surprised me so dear! It was not full of texts but it spoke to me more than words! The coolest illustration book I ever encountered. It is like I am linked to Isobel's Journal because, I too, love tea, bands, old records, etc. I sketch and doodle a lot, also!
"My favourite thing to do is probably lying in bed or eating snacks...or both at the same time"
"A lot of the time I live in my own world"
Isobel's Journal gives you some conduct on life, friendship and very estimable exemplification of a girl's spirit towards family, friends and acquaintances. You can find what girl's usually do like daydreaming and talking about boys. Isobel showed her love to vintage shops and fondness on books, photographs, ticket stubs and more! The journal depicts that girls also have bad sides. From this book, I was to find myself that I am not the only odd sketcher in the world for I love 90s girl bands. A page of this made it more adept because it campaigns feminism.
I am waiting for this book on our local book store! It gave me a good laugh so it will give my family the best, too! It is made all the better for it.
18 Jun 2014
Life Lived Twice by Sherrie Wouters
Title: Life Lived Twice
Author: Sherrie Wouters
Publication: June 6th 2014 by Bermingham Books
Format: eARC, 229 pages
Genre: Young Adult; Fantasy
Source: Author ● I received a free copy in exchange for an honest review.
Purchase at:
Book Depository
;
Amazon
;
Barnes and Noble
Some promises are made to last forever...
What if you fell in love with a stranger...but that stranger had come from your past, a past you never knew existed until the moment your eyes met?
When Tess Winters locks eyes with a stranger at an airport bookstore, it ignites a feeling of passion somewhere deep inside her that she can't explain.
Although the encounter is innocent and brief, the intensity of it lingers, leaving her overwhelmed by a yearning for the mystery man now consuming her every thought.
Struggling to break the powerful hold he has over her heart, Tess starts to experience strange but familiar dreams...dreams from the turn of the twentieth century of the charming Mr Addison Taylor.
As her dreams start to materialize into reality, and past and present begin to blur, Tess is forced to put the pieces of a forgotten time together, and soon discovers that love isn't the only thing that can find you after an eternity.
Do you love poetry as you love reading young adult? The book started with a poem by Samuel Taylor Coleridge. I never heard of this poet but his piece was capable of arousing interest. And to that, curiosity took me over as I read Tess Winters' standpoint.
I can thoroughly envisage the scene of
Life Lived Twice
. *Slow claps and stands.* At first, I did think that Tess just have delusions. She sinks into her dreams that are very queer. But as it goes, it gets more occupying and mattering. The book was written for the reader to be pursued, converted and compelled for whatever (*singing out of tune* I do want to be a spoiler, go read it yourself and discover) its point was. As her mysterious LB who bestows a book came to Tess, her life became an essential relevance and added by Addison she dreamt of for counted nights and Dane the landlord.
What can you get from book:
It can help you from deterrent.
There are lots of moral you can get.
You will have an instant relationship with LB and Dane.
Oh yes, fall in love… The word all I can have to spit that the characters have given me is KILIG.
noun
. It is the sudden feeling of an inexplicable joy one gets when something romantic or idealistic occurs.
Sherrie Wouters' writing entertained me well that I was lost by everything that exists anywhere.
Life Lived Twice
is a taut romantic fantasy that is desirable to read and exciting enough to keep the reader engrossed and wanting to finish it. I am dying for the sequel!!
I am so in love with the video book trailer!
I would love this book to be a movie!
ABOUT THE AUTHOR
Sherrie Wouters is the author of the romantic fantasy, Life Lived Twice.
A qualified Homeoeopath and Kinesiologist, Sherrie lives in country Victoria, Australia with her husband, and two daughters. She is currently working on the sequel to Life Lived Twice.
Join the giveaway below to win Life Lived Twice from the author Sherrie Wouters and five more eBooks (different titles) from yours truly! Note that Miss Sherrie would giveaway a physical book of Life Lived Twice if the giveaway reaches 1,000 entries! Good luck. <3
15 Jun 2014
The Smart Girl's Guide to God, Guys, and the Galaxy by Susie Shellenberger and Kristin Weber
Title: The Smart Girl's Guide to God, Guys, and the Galaxy
Authors: Susie Shellenberger and Kristin Weber
Publication: April 1st 2014 by Shiloh Run Press
Format: Kindle Edition, 224 pages
Genre: Christian; Young Adult
Source: Netgalley ● I received a free copy in exchange for an honest review.
Purchase at:
Amazon
;
Book Depository
Goodreads
Save the Drama! and 100 Other Practical Tips for Teens: The Smart Girl's Guide to God, Guys, and the Galaxy melds spiritual and practical advice with humor—a winning combination as you're trying to navigate the ups and downs of life with grace and confidence. You'll be encouraged and challenged with sound, biblically-based advice equipping you to stand up for your faith and live the Christian walk every day. . .plus, you'll encounter some fun, common-sense tips along the way.
This would not be a long rant because this book is good for girls that are doubting on everything. The synopsis explains what's inside the book plus more to read and expect! I will be posting three pages from my copy and so this would mean an excerpt.
I will give a rate to this book because this still serves as a review. This book is a guide to every girls that has issues to their friends, families, religion, school, boyfriend, etc. Its humor adds points on its point.
The Smart Girl's Guide to God, Guys, and the Galaxy by Susie Shellenberger and Kristin Weber is up for grab and it's a worthy guide to every girls!
I am tagged by Abby of
Enthralling Reads
.
Thank you so much Ab! I am so overwhelmed that you tagged me. It means a lot to me to post this. It is my first time to be tagged by someone like you because your blog is groovy!
Let's get this started...
What are your top three book pet hates?
Relationship like Anastasia and Christian's. *Rolls eyes.*
Teared dust jacket.
No front cover.
Describe your perfect reading spot.
Sitting on the ground with my stretched legs... ANYWHERE I can be: book stores, school library, home. I like it when my legs are stretched. They make me comfortable. Easy for me to read.
Tell us three book confessions.
I read The Fault In Our Stars late.
I skim pompous writing. Or over written. Too much rant.
I do not buy physical books when they are on my virtual shelf. :<
When was the last time you cried during a book?
If I Stay by Gayle Forman! Oh, please. Do not ask me why I cried. Just read the book. :P
How many books are on your bedside table?
Four: My Oxford dictionary, The Golden Compass by Philip Pullman, General Chemistry, and Computer Programming.
What is your favorite snack while you're reading?
I do not eat snacks while I am reading at home. But when I am at school and vacant, I eat fries but no dipping!
Name three books you would recommend to everyone.
John Dreamer by Elise Celine. (Read my review of this for the reason. :D)
Flipped by Wendelin Van Draanen. (Unparalleled. Radically distinctive!)
The Stars Shine Down by Sidney Sheldon. (Remarkable. )
Show us a picture of your favorite bookshelf on your bookcase.
I do not have lots of physical book. I am prone now that generation took over my reading cave.
Write how much books mean to you in just three words.
Pages bound together. I do not have to explain myself to this.
What is your biggest reading secret?
Well, this secret is not for everyone but to my mom only. Ha! She did not allow me to read anymore through our Android tablet because it might spifflicate my eyes. She let me deleted Moon+ Reader. But after few days, I disobeyed her, not knowing I downloaded Kindle on my phone and Aldiko Reader to the tablet. Reading continues... *Evil grin.*
Tagging:
Dianne
of Oops! I Read A Book Again.
Ella
of The Filipina Book Note.
Amber
of The Mile Long Bookshelf.
Farzy
of Book Keep Me Sane.
If you have been tagged or not, comment down the link of your Book Blogger Test! I will be happy to read it and give some comments. Thank you. Happy tagging! :)
14 Jun 2014
John Dreamer by Elise Celine
Title: John Dreamer (
John Dreamer #1
)
Author: Elise Celine
Publication: February 12th 2014 by AuthorBuzz
Format: Kindle Edition, 203 pages
Genre: Fantasy; Young Adult; Contemporary
Source: Netgalley ● I received a free copy in exchange for an honest review.
Purchase at:
Amazon
Andy wasn't usually sure about much, but she was absolutely certain this was the weirdest day of her life as she stood stranded in the middle of a great white room with six strangers. Well, they were mostly strangers. She could have sworn she'd seen the guy with the green eyes before, and maybe that was why he kept staring at her. When a man calling himself the Guardian appeared and said they had come to make their deepest dreams come true, they embark on an adventure none of them ever imagined, and the consequences of their actions would change them forever.
John Dreamer is the first book I read from Netgalley and the first book that was approved to me by its publisher. I was beaming at the screen by the time I saw it sanctioned for my pleasure to review it.
I didn't want him looking at me; guys like that could mean nothing but trouble.
The story started when Andrea found herself in the middle of a great white room. No windows, no ceiling, no doors. Then, my reading went to nonstop. I am surprised by insight for the book is written creative and smart. You could imagine through your deep thoughts what was happening with the characters. You also were like dreaming. You are just there, watching, as the characters fulfill their dreams as if you were the one in charge of their dreams in the white room and the Guardian was just your procurator.
Your path is only yours to take, the choice yours to make.
The book does tell us concerned with principles of right and wrong or conforming to standards of behavior and character based on those principles. It takes a dream for us to realize everything we supposed to have done.
The more you tried to help, the more reluctant they became.
Celine's book was beyond or deviating from the usual or expected. The best uniquely made book or whatever trite or obvious remark a reader could give. John Dreamer is deserving of esteem and respect. It is markedly different from the usual and distinctive or special.
11 Jun 2014
Fifty Shades of Grey by E.L. James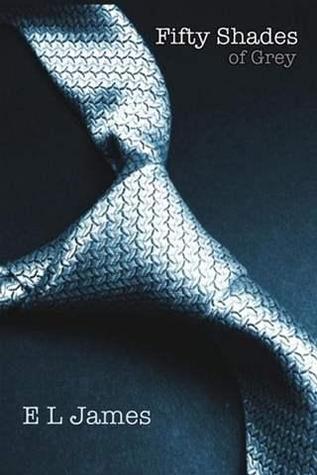 Title: Fifty Shades of Grey (
Fifty Shades #1
)
Author: E. L. James
Publication: May 25th 2011 by Vintage
Format: eBook, 385 pages
Genre: Romance; Adult Fiction
Purchase book at: Book Depository; Amazon
Synopsis: (From Goodreads)
When literature student Anastasia Steele goes to interview young entrepreneur Christian Grey, she encounters a man who is beautiful, brilliant, and intimidating. The unworldly, innocent Ana is startled to realize she wants this man and, despite his enigmatic reserve, finds she is desperate to get close to him. Unable to resist Ana's quiet beauty, wit, and independent spirit, Grey admits he wants her, too—but on his own terms. Shocked yet thrilled by Grey's singular erotic tastes, Ana hesitates. For all the trappings of success—his multinational businesses, his vast wealth, his loving family—Grey is a man tormented by demons and consumed by the need to control. When the couple embarks on a daring, passionately physical affair, Ana discovers Christian Grey's secrets and explores her own dark desires.

This book is intended for mature audiences.
Fifty Shades of Grey circles two people—Anastasia Steele who was an English literature student and Christian Grey , the CEO of Grey Enterprises Holdings, Inc. *Spoiler alert.* They first met when Ana's roommate, Kate, was sick and unable to interview Christian for the student newspaper. Christian by that time was daunting. They fall to their smart mouths when Ana questioned Christian if he was a gay. And… The story goes.
My friend, Angelie, has read this book and recommends it to me. She knows that I am partial to this kind of hold.
Icky this book! I do not why but it made me cry for nights! Maybe because I was hurt like Ana when she was not able to have more? You know my more is not like Ana's cravings when she's around with Christian and not able to eat. My more is the love. The relationship you would expect to normal people.
The words on this book are denotative or shall I say having the power of explicitly denoting, designating or naming. I scream to the top of my lungs, "I DID NOT EXPECT WHAT I EXPECTED!!!" It was highly offensive that it causes me nausea. Queasy enough. Loathful also in particular way. I do not feel much antipathy or aversion towards the book because of the excitement I did experience while reading it. The excitement I mean is that what will happen to the two at the end apart from their playroom relationship. That, Red Room of Pain relationship of them, what makes me barf.
Besides the poignancy of the book, I see it funny and mirthful. Like the others reviews on Goodreads, I do not find it totally clodhopping.
Fifty Shades of Grey is a page ferment. Go sour or spoil.
10 Jun 2014
Top Ten Tuesday #2: All Time Favorite Movie Actors. YUM!
Of course! Why would I not feature these yummy men on our movie screen? Such resplendent men of old and new ages. Hmmmm... Here they are on action with one of their best movies.
He gives me hell of face and heaven of laugh.
His movie The Secret Life of Walter Mitty made me love him more.
You must watch it.
You know... This guy write songs.
I love his voice, his smile, his humor.
He is different now from his movie Titanic
but he is still terrific.
If you have not seen the movie City of Angels,
you should. Go.
Everybody loves this man.
In character or not.
Lucky Amanda.
*Roll's eyes.*
You got to change your hair here, Sir.
Not her Landon, please. She's Mandy, I'm Yani.
I guess his death made me hate cars.
Is one of your favorites on my feature? I'd like to hear them from you!
9 Jun 2014
The Stars Shine Down by Sidney Sheldon
Title: The Stars Shine Down
Author: Sidney Sheldon
Publication: William Morrow & Company, Inc. Oct. 5th 1992
Format: Hardbound, 304 pages
Genre: Thriller; Mystery; Romance
Purchase book at:
Book Depository
;
Amazon
Synopsis: (From Goodreads)
Lara Cameron is a famous powerful wealthy New York building developer who struggled from brutal poverty in Glace Bay, a banker who took her body as part of her first deal, to Chicago, banker Keller whose love she takes lightly for granted. As her skyscrapers and boutique hotels tower on earth, she is at the top of a male dominated field. She lies and cheats to close a deal, making cruel enemies. She is forty, beautiful, glamorous, insecure, ruthless, vulnerable, secretly generous, rich - and still wants more. She marries an international concert pianist, the Lochinvar of her childhood dreams, but someone puts him in the hospital and threatens to take down her empire.
This is an old book that was lent to me by Aunt for she knew that reading was my pleasure. I did not expect she would give me such book that time because it has rated PG. But she knows her niece is not dire.
Maybe we'll get lucky and crash, Lara Cameron thought. It would be a fitting end. Somewhere, somehow, it had all gone wrong. It's the Fates, Lara thought. You can't fight the Fates. In the past year her life had spun wildly out of control. She was in danger of losing everything. At least nothing else can go wrong, she thought wryly. There is nothing else.
Lara had no time to feel lonely. And who ever read this book would have no time to stop reading. It is embracing all else and saturated with promise. It contains explicit words about Lara Cameron who is young and beautiful. Rising from a past she seeks to repress, she achieves her wildest ambition, creating a much-envied business empire. Then, overnight, all that has gone before, her fortune, her achievements, and her marriage—everything—is at risk. She let in Paul Martin, Howard Keller and Philip Adler to bear on her life. These men did salutary and well as her world shines.
Sidney Sheldon
's The Stars Shine Down is enormously entertaining. The best single book on the entertainment business I have ever read. You want an adventure novel you simply cannot put down, grab this book.
8 Jun 2014
Stacking The Shelves #1
Stacking The Shelves is a feature hosted by Tynga's Reviews where bloggers share what books (both physical and digital) they received, won, bought, and borrowed.
The new books on my virtual shelf are all requested for a review here on Paper Boulevard. I hope to finish them all as soon as possible. I am so excited to read them for they have adorable covers!
Received from the Author
It is already out now!
Thank you Miss Sherrie for the ARC.
From Netgalley
Expect for my review of John Dreamer on June 14!
Thank you to the publishers who approved my requests!
AuthorBuzz
Gemelli Press LLC
Capstone
Barbour Publishing, Inc.
Kensington Books
In This Together Media
What's new on your shelf this month? Have you read one or more of the books I have featured? Tell me on the comments below!