30 Nov 2014
Lang Leav Book Signing Tour
When: December 5, 2014, 5 pm
Where: The Gallery, Ayala Center Cebu
(200 slots only)
When: December 6, 2014, 12 pm
Where: East Atrium, Shangri-La Plaza East Wing
(500 slots only)
When: December 7, 2014, 12 pm
Where: Powerbooks, Greenbelt 4
(500 slots only)
Registration starts at 10 am for all events.
Join contemporary author and artist Lang Leav, author of the bestselling Love & Misadventure and Lullabies, for book signing events on December 5 at 5 pm in The Gallery of Ayala Center Cebu (200 slots), on December 6 at 12 pm in the East Atrium of Shangri-La Plaza East Wing (500 slots), and on December 7 at 12 pm in Powerbooks, Greenbelt 4 (500 slots). Registration starts at 10 am for all events.
The events are made possible in partnership with Raffles Makati, Metro magazine, Chalk magazine Sweep, Ayala Center Cebu and Shangri-La Plaza. Follow National Book Store on Facebook, Twitter and Instagram (@nbsalert) for more details. Tag #LangLeavinPH to join the discussion.
ABOUT THE LULLABIES
A sequel to the hugely popular, best-selling Love & Misadventure, Lullabies continues to explore the intricacies of love and loss.
Set to a musical theme, love's poetic journey in this new, original collection begins with a Duet and travels through Interlude and Finale with an Encore popular piece from the best-selling Love & Misadventure. Lang Leav's evocative poetry speaks to the soul of anyone who is on this journey.
Leav has an unnerving ability to see inside the hearts and minds of her readers. Her talent for translating complex emotions with astonishing simplicity has won her a cult following of devoted fans from all over the world.
ABOUT LANG LEAV
The enchanting work of contemporary author and artist Lang Leav swings between the whimsical and woeful, expressing a complexity beneath its child-like facade.
Her imagination stretches across a variety of disciplines encompassing art, poetry and books. She is currently represented by New York literary agent Al Zuckerman from Writers House.
Frequently invited to exhibit at high profile exhibitions locally and overseas, she has since built up a loyal following of international fans. Her handcrafted book, Charlie's Widow, was presented to iconic film director Tim Burton at the opening of his Wonderland exhibition at the Australian Centre for the Moving Image.
Lang is a recipient of The Qantas Spirit of Youth Award and was later granted a coveted Churchill Fellowship. Her fashion label Akina has achieved critical and commercial success, stocked in key boutiques around Australia and later in cutting edge Harajuku, Japan.
Mechanics
1. There will be three (3) book signings each with a limited number of signing slots:
• December 5, 5 PM, The Gallery, Ayala Center Cebu (200 slots)
• December 6, 12 PM, East Atrium, Shangri-La Plaza East Wing (500 slots)
• December 7, 12 PM, Powerbooks, Greenbelt 4 (500 slots)
2. Registration will start at 10 AM for all events. FIRST COME, FIRST SERVED.
3. Lang Leav will only sign copies of her book LULLABIES. No other book or other item will be allowed.
4. Each registrant is only allowed to have one (1) book signed.
5. Only copies of LULLABIES bought at any National Book Store, NBS Express, and Powerbooks branches will be allowed. The book MUST have its official receipt or price tag.
23 Nov 2014
Geek Charming by Robin Palmer
Genre: Young Adult, Contemporary
Published September 15th 2010 by Penguin Group (USA)
Rating:
Dylan Shoenfield is the princess of L.A.'s posh Castle Heights High. She has the coolest boyfriend, the most popular friends, and a brand-new "it" bag that everyone covets. But when she accidentally tosses her bag into a fountain, this princess comes face-to-face with her own personal frog: selfprofessed film geek Josh Rosen. In return for rescuing Dylan's bag, Josh convinces Dylan to let him film her for his documentary on high school popularity. Reluctantly, Dylan lets F-list Josh into her A-list world, and is shocked to realize that sometimes nerds can be pretty cool. But when Dylan's so-called prince charming of a boyfriend dumps her flat, her life and her social status comes to a crashing halt. Can Dylan with Josh's help pull the pieces together to create her own happily-ever-after?
Omigod! – I am never a popular girl. But this book made me realize of things multiply to hundred! Now I sound like Dylan. Well, it's brilliant I gave it a try and totally was worth it!
Dylan Schoenfield and Josh Rosen are the main characters that gave Palmer's book a life. Dylan was—note the past tense, please—the Castle Heights High most popular girl. She was regarded with great favour, approval, and affection by everyone especially that she had the coolest boyfriend, the most popular friends, and the "It" trendy accessories everyone envies. Josh was the opposite sex of opposite status of Dylan, in which, he was described as "geek". He is a film eccentric where practically everything he talks about and relates about is classic films, award-winning directors and famous actors and actresses.
Of course, it's not complete without friends. The other characters of Geek Charming are well-round written. They do not ruin the main personas but gave more feelings.
Who else here reads the book's back cover just after they have read what's inside? Me! Me! Me! I just realized (Just after reading Geek Charming) that I am doing that every time I finish a book. I admit it. I do not care a lot of the synopsis and blurbs of the books I pick at the bookstore. What I care for is what's inside. I flip the pages to its first chapter and read. When it triggers me, then . . .
Really, the books you read brings you to the world you are not in. Geek Charming is enlightening. It gives us [readers] a big heart. Humorous and outstanding for me! Recommending Robin Palmer's to those who suffer on malady, to those who think they are on the F-list, to those who never went out of their curtains, and to those who never really know themselves.
18 Nov 2014
The Young Elites by Marie Lu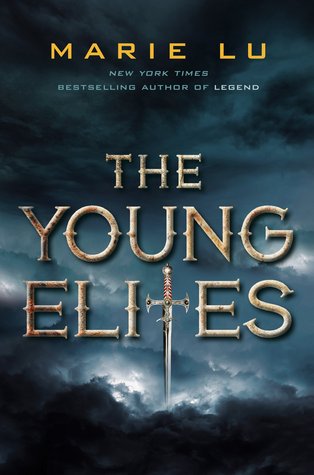 Genre:
Fantasy; Young Adult; Dystopia
Published October 7th 2014 by G.P. Putnam's Sons Books for Young Readers
I am tired of being used, hurt, and cast aside.
Adelina Amouteru is a survivor of the blood fever. A decade ago, the deadly illness swept through her nation. Most of the infected perished, while many of the children who survived were left with strange markings. Adelina's black hair turned silver, her lashes went pale, and now she has only a jagged scar where her left eye once was. Her cruel father believes she is a malfetto, an abomination, ruining their family's good name and standing in the way of their fortune. But some of the fever's survivors are rumored to possess more than just scars—they are believed to have mysterious and powerful gifts, and though their identities remain secret, they have come to be called the Young Elites.
Teren Santoro works for the king. As Leader of the Inquisition Axis, it is his job to seek out the Young Elites, to destroy them before they destroy the nation. He believes the Young Elites to be dangerous and vengeful, but it's Teren who may possess the darkest secret of all.
Enzo Valenciano is a member of the Dagger Society. This secret sect of Young Elites seeks out others like them before the Inquisition Axis can. But when the Daggers find Adelina, they discover someone with powers like they've never seen.
Adelina wants to believe Enzo is on her side, and that Teren is the true enemy. But the lives of these three will collide in unexpected ways, as each fights a very different and personal battle. But of one thing they are all certain: Adelina has abilities that shouldn't belong in this world. A vengeful blackness in her heart. And a desire to destroy all who dare to cross her.
It is my turn to use. My turn to hurt.
Click on the banner for the tour schedule.
Read an excerpt:
Ugly red bruises circle the consort's lower neck, as if someone as tried to choke him. Only now, as Enzo touches Raffaele's chin and titls his face in the direction of the light, does the faint purple bruising at the edges of his lips become noticeable.
Enzo looks Raffaele in the eyes. "Did one of your clients do this to you?"
Raffaele's eyes stay downcast. He adjusts his collar back into place, then brushes his hair across one shoulder in a glossy rope. He says nothing, knowing that his silence answers Enzo's question.
"Tell me the name," Enzo murmurs.
Raffaele doesn't speak for a moment. Most of his clients are gentle with him, even in their passion. But not at all. Memories from earlier in the evening return, memories of rough hands on his neck, shoving him against the wall, striking his face, insults whispered harshly into his ear. It happened on very rare occasions, and he did not like troubling Enzo with the details. Raffaele's work is important to the Daggers, after all – he might not have the same powers that the others do, but while his power cannot kill, it does hypnotize. Many of his clients fall so feverishly in love with him that they become loyal patrons to the Daggers. Political alliances are made in his bed.
Still. The work come with its dangers. I should tell my madam first; she will privately fine my client for his abuse and ban him from seeing me. Instead, he meets Enzo's gaze. His gentle heart hardens. But not this time. Some deserve punishment greater than a fine. "Count Maurizio Saldana," he replies.
Enzo nods once. His expression doesn't change, but the scarlet streaks in his eyes bun bright. He presses a gloved finger against Raffaele's chest. His voice is a quiet command. "Next time, do not keep secrets from me."
***
The next morning, Inquisitors find Count Maurizio Saldana's dismembered body nailed to his front door, his mouth suspended in a scream, his corpse burned black beyond recognition.


Win One SIGNED copy of
THE YOUNG ELITES by Marie Lu
6 Nov 2014
Melt by Selene Castrovilla
Genre:
Contemporary, Young Adult, Romance
Published November 6th 2014 by
Last Syllable Books
MELT is a brutal love story set against the metaphorical backdrop of The Wizard of Oz (not a retelling). When sixteen year old Dorothy moves to the small town of Highland Park, she meets, and falls for Joey – a "bad boy" who tells no one about the catastrophic domestic violence he witnesses at home. Can these two lovers survive peer pressure, Joey's reputation, and his alcoholism?
Told in dual first person, Joey's words are scattered on the page - reflecting his broken state. Dorothy is the voice of reason - until something so shattering happens that she, too, may lose her grip. Can their love endure, or will it melt away?
MELT is based on true events. It is both a chilling tale of abuse, and a timeless romance. It will hit you like a punch in the face, and also seep through the cracks in your soul.
Hi everyone! Today, Paper Boulevard is participating for the Release Day Launch of Selene Castrovilla's Melt! Check out this post and join the online launch party and giveaway! HAPPY BOOK BIRTHDAY MISS SELENE!
About Selene Castrovilla
Selene Castrovilla is an award-winning teen and children's author who believes that through all trends, humanity remains at the core of literature. She is the author of
Saved By the Music
and
The Girl Next Door
, teen novels originally published by WestSide Books and now available digitally through ASD
Revolutionary Friends
, was released in April 2013. She is also a contributing author to
UncommonYA
. Selene holds an MFA in creative writing from New School University and a BA in English from New York University. She lives on Long Island with her two sons. Visit her website
www.SeleneCastrovilla.com
for book excerpts and more information!
Publishing. Her third children's book with Calkins Creek Books,
3 Nov 2014
Handpicked by Dani Oden
Genre: NA, Romance, Mystery
Publication: August 5th 2014
Purchase at:
Amazon
Source: Netgalley · I received a free copy in exchange for an honest review.
Rating:
College freshman Jill Holloway takes one look at the stuck-up girls going through sorority rush and nearly returns her borrowed dress and heels. Against her best judgment, she ends up falling for the prestige and parties, and snagging a bid from a top house. After moving in, she quickly grows skeptical of her too-perfect sorority sisters. She tries to ask questions, though no one will take time from their busy social calendar to give her any real answers.
Jill wastes no time digging for everything she's not supposed to find, and soon comes face-to-face with a big and bloody secret hidden in her sorority's basement. She knows she's in over her head, but taking off so soon would raise the perfectly-plucked eyebrows of her suspicious new sisters. She's stuck until she can make a smooth exit.
But the closer she gets to leaving, the more it becomes clear that it won't be as simple as she hoped. A tempting fraternity guy, a best friend who needs her, and new details about what has really been happening in the basement have her questioning what her next move should be, and whether or not it'll be worth the risks.
Handpicked is the best (?) Greek read I had in years. It was written in constant motion. I was just wondering of the poor rating it has on Goodreads. Why?
Others say that the characters are immature and annoying. Well, I could say college freshmen are still immature. It's just stupid when you say you are not. You will be homesick. You will still search for fun after school. I can see a lot of immature freshmen in our university especially on the first semester. So why say? Especially to Jill where things just went swift! She can't track her moves by then. But YEAH RIGHT. Things went swiftly that Jill bang up his insta-love, Tad, on direst times.
The secondary characters need some development. I thought that so. Tad was cunning. Just cunning. Unlike Jill, I was not fallen off to his cliff. Lindy is just a plain friend whom I do not understand if she is what or what? And Hannah is WHATEVER FRIEND IDC A LOT with his dolt boyfriend Evan.
In this book, I saw a huge question mark: Soccer and Football is different? Can someone explain this to me? I am not from the west but I know a little (I'm not sure if I'm right with this too but) that Soccer and Football is played the same. I saw a movie (forgot the title) that Soccer is American while Football is British. ARRGH wtvr.
I could not say that this is a New Adult frankly because of the characters wretched ability on being a grownup. But, Handpicked made me anxious on who did those "things". It is a dandy mystery book after all. It never forces you to read until its last period.
Dani Oden's Handpicked is a groovy mystery read. I recommend this to readers who love Greek life of a click of romance and propelling sisterhood mystery.