28 Dec 2016
Review: The Impostor Queen
Genre: Fantasy
Format: Hardcover, 432 pages
Elli is destined to be Valtia, a Queen of the Kupari and the only person who can wield both fire and ice in service of her country. But when the previous Valtia dies, the magic does not enter Elli- doesn't seem to go anywhere. In disgrace, she flees for her life to the outlands, and a world she doesn't know. As she finds her footing, she learns more about the magic of her people, and grapples with her true purpose.
Joining a proud history of fantasy novels whose covers feel like they don't quite suit them is
The Impostor Queen
! (It technically suits the book... but it doesn't quite capture the feel for me?)
This was kind of a twist on the chosen one trope- girl raised to be the most powerful magic-user in history discovers that she's not exactly the chosen one.
Initially, this book felt very similar to a lot of YA fantasy, but rapidly deviates when Elli can't access the magic she was meant to wield. The world changes veers rather quickly away from what I was expecting, especially in terms of the priests have a great deal of power over the country- and the Valtia. It was refreshing to have a book go in a direction that was that different from my expectations. It got pretty dark and a bit creepy and quite interesting.
The storytelling took a little while to find it's footing... things really only pick up once Elli gets to the outlands, and she meets the outcasts living there. Watching her learn more about herself and form relationships with others. While Oskar didn't stun me as a love interest, I definitely didn't hate him either, and he definitely had his admirable qualities... it just took a while for his character to grow on me, I suppose. (Except his name. For some reason I didn't like his name. I just didn't work for me and I was weird and judgmental about it.) It nice to watch Elli grow from a person being groomed to be a leader in name, but without all that much practical power, into someone who could and would take on a real leadership role on the ground.
The magic of the world was interesting too. It did seem to have an awful lot of arbitrary-feeling rules, but once I got used to the system it worked for me. This did very much feel like the first book in a series and, while a lot of light has been shed on the magic since the beginning, I'm really hoping that it will be built on in the next book. While this one didn't end on a huge cliff-hanger, it was definitely a tense ending and I'm really looking forward to seeing what happens next!
15 Dec 2016
Review: The Sun is Also a Star
Genre: Realistic Fiction, Romance
Format: Hardcover, 384 pages
Natasha believes in facts, not fate- she definitely doesn't believe that you can fall in love with someone in 12 hours- especially when those 12 hours are the last ones you have before your family is deported. Daniel meets her when he's on the way to a college interview that his parents want and he doesn't and immediately knows that they're going to be something.
This was a bit off the beaten track for me, since contemporaries really aren't my thing. And, okay, at least 20% of the reason I picked it up was because I really like the cover and title.
This was a pretty interesting read! One of my favourite parts was getting to see how the lives of our two main characters touched effected the little stories about those around them, and the coincidences that ended up bringing different people together and pulling them apart.
(My other favourite part was Natasha mentioning how she had to prove to her teacher that favourite was spelled with a "U.")
In a way, this reminded me a lot of
Dash and Lily's Book of Dares
and maybe a bit of
The Statistical Probability of Love at First Sight
. It's about two people who meet (through a series of random chances) and sort of... learn each other over the course of less than 24 hours, through a series of questions and misadventures. I also remember reading about the study they mentioned in passing a while ago. It's a little less fluffy than either of those books though, with the main characters both struggling with some tougher stuff, especially in Natasha's case. While the relationship did seem a little strange (possibly because of how fast it was), I felt that it kind of found it's footing more toward the end.
I've mentioned how my favourite parts of this book was how intertwined with Natasha and Daniel's lives were with other people's, and seeing the ripple effect that even the smallest actions had. These glimpses into everyone else's lives really gave the story a unique and almost whimsical feel. The word sonder, which means the realisation that the people surrounding you have lives as complex as your own, that comes mind. It was so fascinating to see some of those stories come full circle.
While this book is mostly a contemporary, the degree to which the universe seems to be invested in the meeting and relationships of the two main characters lends it a somewhat surreal and borderline magical quality. It wasn't something I disliked- it was definitely another thing that made this novel stand out, and almost pushed it outside of being a standard realistic fiction novel. It was so neat watching all the coincidences that let them find their way to each other.
Touching on the stories of other people was what made this book stand out for me. While the relationship between the two main characters felt... strange, probably because of how quickly it developed, I still enjoyed seeing them get to know each other. Though I'm not much of a contemporary reader, but I did quite enjoy this one!
11 Dec 2016
17 Twenty-Seventeen Anticipated Reads
I am linking this post to my monthly
Anticipated Reads
- a monthly meme hosted by Mel at
Reviews In A Pinch
that will be occurring the first Wednesday of every month that showcases at least three books releasing each month; letting you know what new books are coming out that I'm excited about.
Click the book cover photo to redirect to Goodreads.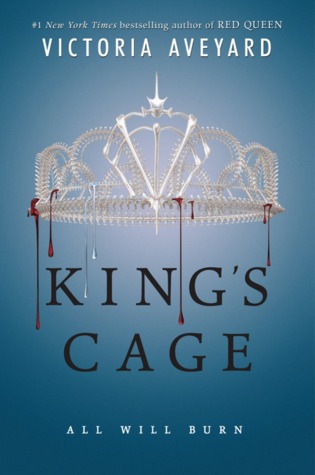 Publication: February 7th 2017 by HarperTeen
In this breathless third installment to Victoria Aveyard's bestselling Red Queen series, allegiances are tested on every side. And when the Lightning Girl's spark is gone, who will light the way for the rebellion?
Mare Barrow is a prisoner, powerless without her lightning, tormented by her lethal mistakes. She lives at the mercy of a boy she once loved, a boy made of lies and betrayal. Now a king, Maven Calore continues weaving his dead mother's web in an attempt to maintain control over his country—and his prisoner.
As Mare bears the weight of Silent Stone in the palace, her once-ragtag band of newbloods and Reds continue organizing, training, and expanding. They prepare for war, no longer able to linger in the shadows. And Cal, the exiled prince with his own claim on Mare's heart, will stop at nothing to bring her back.
When blood turns on blood, and ability on ability, there may be no one left to put out the fire—leaving Norta as Mare knows it to burn all the way down.
Publication: January 31st 2017 by Flatiron Books
Scarlett has never left the tiny island where she and her beloved sister, Tella, live with their powerful, and cruel, father. Now Scarlett's father has arranged a marriage for her, and Scarlett thinks her dreams of seeing Caraval, the far-away, once-a-year performance where the audience participates in the show, are over.
But this year, Scarlett's long-dreamt of invitation finally arrives. With the help of a mysterious sailor, Tella whisks Scarlett away to the show. Only, as soon as they arrive, Tella is kidnapped by Caraval's mastermind organizer, Legend. It turns out that this season's Caraval revolves around Tella, and whoever finds her first is the winner.
Scarlett has been told that everything that happens during Caraval is only an elaborate performance. But she nevertheless becomes enmeshed in a game of love, heartbreak, and magic with the other players in the game. And whether Caraval is real or not, she must find Tella before the five nights of the game are over, a dangerous domino effect of consequences is set off, and her sister disappears forever.
Series: To All The Boys I've Loved Before #3
Publication: April 4th 2017 by Simon & Schuster Books for Young Readers
Lara Jean is having the best senior year a girl could ever hope for. She is head over heels in love with her boyfriend, Peter; her dad's finally getting remarried to their next door neighbor, Ms. Rothschild; and Margot's coming home for the summer just in time for the wedding.
But change is looming on the horizon. And while Lara Jean is having fun and keeping busy helping plan her father's wedding, she can't ignore the big life decisions she has to make. Most pressingly, where she wants to go to college and what that means for her relationship with Peter. She watched her sister Margot go through these growing pains. Now Lara Jean's the one who'll be graduating high school and leaving for college and leaving her family—and possibly the boy she loves—behind.
When your heart and your head are saying two different things, which one should you listen to?
Publication: April 11th 2017 by HarperCollins
Saying good-bye to Scotland is the hardest thing that Jenna MacDuff has had to do—until she meets Lord Pembroke. Jenna's small clan has risked their lives traveling the countryside as masons, secretly drumming up support and arms for the exiled King James Stuart to retake the British throne. But their next job brings them into enemy territory: England.
Jenna's father repeatedly warns her to trust no one, but when the Duke of Keswick hires the clan to build a garrison on his estate, it seems she cannot hide her capable mind from the duke's inquisitive son, Lord Alex Pembroke—nor mask her growing attraction to him. But there's a covert plan behind the building of the garrison, and soon Jenna must struggle not only to keep her newfound friendship with Alex from her father, but also to keep her father's treason from Alex.
Will Jenna decide to keep her family's mutinous secrets and assist her clan's cause, or protect the life of the young noble she's falling for?
Publication: April 25th 2017 by Balzer + Bray
Being a pretty girl is who Rosie is, but it's the start of a new school year and she wants to be more. Namely, she's determined to be better to her best friend, Maddie, who's just back from a summer program abroad having totally blossomed into her own looks. Rosie isn't thrilled when Maddie connects with a football player who Rosie was hooking up with—but if it makes her friend happy, she's prepared to move on. Plus someone even more interesting has moved to town: Alex, who recently garnered public attention after he stopped a classmate from carrying out a shooting rampage at his old high school. Rosie is drawn to Alex in a way she's never really experienced for a boy before—and she is surprised to discover that, unlike every other guy, he seems to see more to her than her beauty.
Then one night, in the midst of a devastating storm, Rosie suffers an assault that tears apart her life and friendship with Maddie. Forced to face uncomfortable truths about beauty, reputation, and what it really means to be a friend, Rosie realizes that change doesn't always happen the way you want it to—every disaster has consequences. But with a lot of help and the right people around you, there might also be a way forward.
What are your most awaited books? Is one of them included in my anticipated reads?
Do you have upcoming releases that would like to share? I would love to add them on my growing reading list. Share them below!