29 Apr 2015
Waiting On Wednesday: A Court of Thorns and Roses by Sarah J. Maas
"Waiting On" Wednesday is a weekly event, hosted by
Breaking the Spine
, that spotlights upcoming releases that we're eagerly anticipating.
It is my first WoW post! How psyched am I.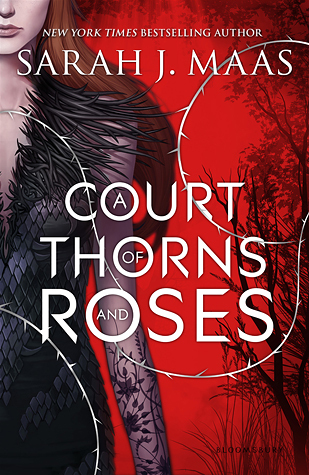 Series:
A Court of Thorns and Roses #1
Expected Publication: May 5th 2015 by Bloomsbury Children's
Genre: Young Adult, Fantasy
When nineteen-year-old huntress Feyre kills a wolf in the woods, a beast-like creature arrives to demand retribution for it. Dragged to a treacherous magical land she only knows about from legends, Feyre discovers that her captor is not an animal, but Tamlin—one of the lethal, immortal faeries who once ruled their world.

As she dwells on his estate, her feelings for Tamlin transform from icy hostility into a fiery passion that burns through every lie and warning she's been told about the beautiful, dangerous world of the Fae. But an ancient, wicked shadow grows over the faerie lands, and Feyre must find a way to stop it . . . or doom Tamlin—and his world—forever.
Isn't that book cover so gorgeous? And it's in red! It's my favorite color after all! I cannot wait for it to be released and have my copy of it. I will surely buy a hardcover one. I just love the dust jackets. Anyway, it's S. J. Maas we are talking people! I heard her series
Throne of Glass
is a great read! I have not read it sadly. Over all, we cannot wait for it! AAAAHH! Lots of book bloggers have read it in advance but I will not myself get envied and spoiled. I will patiently wait for it.
*Wink!
Sarah J. Maas is the New York Times and USA Today bestselling author of the
Throne of Glass
series, as well as the
A Court of Thorns and Roses
series.
Sarah lives in Bucks County, PA, and over the years, she has developed an unhealthy appreciation for Disney movies and bad pop music. She adores fairy tales and ballet, drinks too much tea, and watches an ungodly amount of TV. When she's not busy writing, she can be found exploring the historic and beautiful Pennsylvania countryside with her husband and canine companion.
28 Apr 2015
Review: The Walls Around Us by Nova Ren Suma
Publication: March 24th 2015 by Algonquin Young Readers
Genre: Young Adult, Paranormal, Mystery
Format: ARC, Kindle Edition, 336 pages
Rating:
"Ori's dead because of what happened out behind the theater, in the tunnel made out of trees. She's dead because she got sent to that place upstate, locked up with those monsters. And she got sent there because of me."

On the outside, there's Violet, an eighteen-year-old dancer days away from the life of her dreams when something threatens to expose the shocking truth of her achievement.

On the inside, within the walls of the Aurora Hills juvenile detention center, there's Amber, locked up for so long she can't imagine freedom.

Tying their two worlds together is Orianna, who holds the key to unlocking all the girls' darkest mysteries . . .

What really happened on the night Orianna stepped between Violet and her tormentors? What really happened on two strange nights at Aurora Hills? Will Amber and Violet and Orianna ever get the justice they deserve—in this life or in another one?
"We liked to talk to failed justice." I watch news every night and all I see is failed justice. Reporters tells us the sides of the victim and suspect then we conclude who is guilty. Sometimes, these victims are either celebrities, politicians and common citizens. Sometimes these suspects are either celebrities, politicians and common citizens. A suspect can be the victim and a victim can be the suspect. We can never tell. But all we do is talk failed justice—how many times it had been treated right or how many times it had been manipulated unfairly? We were told that everyone faces equal treatment, but we know the truth.
The Walls Around Us is told by Violet and Amber who were never friends nor seen each other not until Orianna rendered. Violet is a ballet dancer from her place's most well-known ballet school while Amber is locked up away in the Aurora Hills juvenile detention center. These two girls both have the same objective—to live without physical and mental imposed restraints. But Orianna, aware of what these girls are capable of, shake out the truth from their insides. In this phantasmal story of suspense told in two voices, Nova Ren Suma made an exceptional read marked with deliberateness and novelty for every Young Adult reader.


"Our private tastes in books showed a hint of our secret selves."
This should have been a five star rating review but Nova Ren Suma wrote a disturbing story of two girls who have never known each other. I am fascinated with such kind of writing but it afflicted me with anxious uneasiness. As much as I want to give away for me to get to the point, but I can't. It is a must read to those of curious minds. The Walls Around Us is like a narrative poetry book of grief and trouble. I have highlighted the sentences and even paragraphs that is like a snippet of a poem. Only that when I read those after I read the book, it send me more understanding as to what Nova Ren Suma is really up to.
Written in a beautiful manner yet dark and haunting, The Walls Around Us is a deeply engaging read. Advocated for readers allured with poetic style of writing.
Interested to read ' The Walls Around Us'?
Source:
Netgalley
· I received a free copy of this book in exchange for an honest review.
This does not affect my opinion of the book or the content.
26 Apr 2015
Book Tour: 99 Days by Katie Cotugno
Publication: April 21st 2015 by Balzer + Bray
Genre: Young Adult, Contemporary
Purchase at:
Amazon
,
Indiebound
,
Book Depository
Day 1: Julia Donnelly eggs my house my first night back in Star Lake, and that's how I know everyone still remembers everything—how I destroyed my relationship with Patrick the night everything happened with his brother, Gabe. How I wrecked their whole family. Now I'm serving out my summer like a jail sentence: Just ninety-nine days till I can leave for college, and be done.

Day 4: A nasty note on my windshield makes it clear Julia isn't finished. I'm expecting a fight when someone taps me on the shoulder, but it's just Gabe, home from college and actually happy to see me. "For what it's worth, Molly Barlow," he says, "I'm really glad you're back."

Day 12: Gabe got me to come to this party, and I'm actually having fun. I think he's about to kiss me—and that's when I see Patrick. My Patrick, who's supposed to be clear across the country. My Patrick, who's never going to forgive me.
FIVE 'FAST' FACTS ABOUT 99 DAYS
2. 99 DAYS is an homage to two of my favorite summer movies-- Dirty Dancing and Mystic Pizza—which is why Molly works at a resort and the Donnellys own a pizza place.
3. The book originally had a very different—and very convoluted—ending involving a speedboat.
4. I can't take any credit for it at all, but the hardcover of 99 DAYS is super beautiful. It's worth buying for the endpapers alone.
5. There's a very minor character in this book named Alex who I don't even think has a speaking part, but I'm a little bit obsessed with him. I might write his story next.
Katie Cotugno went to Catholic school for thirteen years which makes her, as an adult, both extremely superstitious and prone to crushes on boys wearing blazers. She routinely finds herself talking about the romantic endeavors of characters on TV shows as if they actually exist in the world.

Katie is a Pushcart Prize nominee whose work has appeared in The Broadkill Review, The Apalachee Review, and Argestes, as well as on Nerve.com. Her first novel, HOW TO LOVE, is due out from Balzer + Bray on October 1st, 2013.

The great loves of Katie's life include child's pose, her little sister, and mozzarella and honey sandwiches. She lives in Boston (and in sin) with her boyfriend, Tom.
This book tour is organized by the Bookish Diaries Book Tours. Click on the tour banner to see the blog tour schedule.
24 Apr 2015
Review: Lailah by Nikki Kelly
Publication: October 7th 2014 by Feiwel & Friends
Genre: Young Adult, Paranormal
Rating:
The girl knows she's different. She doesn't age. She has no family. She has visions of a past life, but no clear clues as to what she is, or where she comes from. But there is a face in her dreams–a light that breaks through the darkness. She knows his name is Gabriel.




On her way home from work, the girl encounters an injured stranger whose name is Jonah. Soon, she will understand that Jonah belongs to a generation of Vampires that serve darker forces. Jonah and the few like him are fighting with help from an unlikely ally, a rogue Angel named Gabriel.




In the crossfire between good and evil, love and hate, and life and death, the girl learns her name: Lailah. But when the lines between black and white begin to blur, where in the spectrum will she find her place? And with whom?




Gabriel and Jonah both want to protect her. But Lailah will have to fight her own battle to find out who she truly is.
I am an unfortunate reader where I cannot read a recently released book. Reasons I've got are: school, school, school and money. I don't have much time to read and no time to write a review. I just rate it on Goodreads and there you go. That's a review to me. But it's useless if you just rate a book and don't share a review. Plus, money matters. My mother scolds me every time I buy a book, either new or bargain. I want to yell at her 'You don't know how it feels to have this book!!' but that's impossible.
Lailah
is one of the books I have been waiting to see at our local bookstore's shelves but is not there until now. (Disappointed reader here. Also, I am not that eager to order online since I'll pay for the book, the shipping fee and the custom fee.) It has been a talk on Twitter for a month or so since its release. The people are like tweet shouting at me that it should be read right now and feel the feels they felt! Nikki is also an interactive author. I love authors who are so approachable to their readers and discuss stuffs about their books. I have read mixed views of
Lailah
on Twitter and mostly they are really getting my attention and my envy level is growing high. Even Carmel of
Carmel and Kyla ordered it online after reading it in on her phone. I'm so lucky she let me borrow her copy. That filled my envy over a book.
Lailah is the first book in the series The Styclar Saga where Lailah is the heroine stuck in the middle of a war between knave vampires and their masters. It is a war for freedom of the second generation vampires and who are willing to change and remain their humanity in their hearts. An arch angel named Gabriel is set to be an ally of these regressive vampires. Somehow, Gabriel is the only face and name Lailah knows through her vision of her past life. While Jonah, a vampire she saved from death, adds questions about her existence.

Nikki Kelly wrote Lailah with immense purpose–for Lailah to know what she really is. There are not much twists and turns but is quite thorough. On knowing her being, she is associated with Gabriel and Jonah, both from different dimension. Kelly intend these two to be part of Lailah–Gabriel from her past willing not to push her memories and Jonah, mysteriously wonders what in the heck is Lailah truly. Thus, Nikki tried and successfully put these characters together.

As much as I love the book, most readers rate it poorly. Lailah is sadly compared to Twilight and The Vampire Academy series. This is the part I should have reminisce TVD since it is the only vampire series that I have read but that didn't occur to me. Maybe for others, Kelly's writing is not that effective, but it is to me. Lailah is a pleasantly entertaining read. I think readers should not overwhelm their selves of what they have already read to what they are reading. They are written by different authors. They have different perspectives. Unless they are honest enough to tell their readers they got their inspirations from those books.

Lailah is for readers who love busy fights between beings from different dimension–vampires and angels–cunning love triangles, and horrendous self-knowing.
22 Apr 2015
Review: Boy Nobody by Allen Zadoff
Publication: June 11th 2013 by Little, Brown Books for Young Readers
Genre: Young Adult, Thriller
Format: Kindle Edition
Rating:
They needed the perfect assassin.




Boy Nobody is the perennial new kid in school, the one few notice and nobody thinks much about. He shows up in a new high school in a new town under a new name, makes a few friends, and doesn't stay long. Just long enough for someone in his new friend's family to die-of "natural causes." Mission accomplished, Boy Nobody disappears, moving on to the next target.




But when he's assigned to the mayor of New York City, things change. The daughter is unlike anyone he has encountered before; the mayor reminds him of his father. And when memories and questions surface, his handlers at The Program are watching. Because somewhere deep inside, Boy Nobody is somebody: the kid he once was; the teen who wants normal things, like a real home and parents; a young man who wants out. And who just might want those things badly enough to sabotage The Program's mission.




In this action-packed series debut, author Allen Zadoff pens a page-turning thriller that is as thought-provoking as it is gripping, introducing an utterly original and unforgettable antihero.
Note: I have requested this book on
Netgalley
with the title '
The Hit
', publication date
May 23, 2013
and different book cover.
For typical Young Adult contemporary readers like me, I would not doubt reading this and be on my top TBR list, but,
oh
Boy Nobody you just Hit me off the ground! Now, I am fond of hoarding action-packed YA books. Anyway, I thought so that this is
a
great read introduction for me to the genre
.
'Boy Nobody' is a riveting series
told by a boy who you would never liked to meet. He is a remorseless assassin trained by the said The Program. Manipulated by what he call Parents, he is sent off to places to kill the enemies of the state. First, he integrates, be friends with his target's family, then cleverly stab his target with a pen. No foul play to be seen, no sweat, just a clean kill-game for Boy Nobody then he is out, next to another mission. But things gone different when the most difficult duty came
—
to kill the mayor of New York in just five days. Unlike his past missions, he'll be friends with Sam, not a mere boy, but the mayor's daughter.
As the mission came, Boy Nobody was named Benjamin. He tells us his story through alternating visions of the present and his past. Ben calculates his every move like a computer could never do. But his smartness outweighs when Sam came in front. Sam is hard. She is different from other distinctive girls. She is never whiny but
unpredictable
.
The characters of this book are intimately written. They have their own route, role, and account. The reader would never doubt digging a character or so on the next book because it attaches you on the character especially Mike
—the one that set Benjamin on his shoes.

Zadoff wrote Boy Nobody as an antihero series with a character who has no name making it more desiring to read. This series is no stark YA thriller but cool enough for readers who are enamoured with reads that raises heavier questions about who's and what's pleasant and atrocious. Hence, perfect engrossing read for reluctant readers.
Interested to read 'Boy Nobody'?
Purchase it at: Book Depository, Amazon, B&N

Source: Netgalley · I received a free copy of this book in exchange for an honest review.
This does not affect my opinion of the book or the content.
21 Apr 2015
Cover Reveal: Yours Truly by Cassie Shine
Hello, dear readers! If you are a follower of mine on Twitter since last year, you would have read my tweet with Cassie Shine's
Harp's Song
, I rated it five stars! I have enjoyed reading that book so much. But I am sad
too
that I have not given it a review. Anyway, since I adore Shine's writing, I am so eager to participate to reveal the book cover of her new series,
Pen Pals
! Thank you a lot to
Jen Halligan
for making all of this possible. Lucky to be one of her tour hosts!
Expected Publication: September 2015
Genre: Young Adult, Contemporary
Sixteen-year-old Laia Hawkins wonders what in the heck she's supposed to say to Adrian Gutierrez, the name of her new pen pal—thanks to her World History teacher. How could Adrian, from Seville, Spain, possibly relate to Laia and her quiet life in a suburb of Kansas City, Missouri?

But, as Adrian and Laia write to each other, friendship blossoms and secrets emerge. Laia finds comfort in Adrian's letters confessing truths she's kept hidden—even from those closest to her—like how lost she's felt since her father's death, her anxiety about graduation, and her fears about leaving her family and two best friends.

Adrian, determined to help Laia come out of her shell and face her fears, devises a series of challenges that she must complete and document in her letters to him.
And, what started as an innocent game of twenty questions becomes more.
Cassie Shine is the YA author of Harp's Song and Harp's Voice. An avid reader and lover of music, she has a weak spot for all things teenybopper, especially boy bands. She also loves classical, country, rock and well, pretty much everything.
After living in St. Louis for more than ten years, she and her husband packed up a U-Haul and headed west. They currently live in Orange County, CA with their furry kids Finnegan and Molly
Enter to win a $25 Amazon gift card! Any contestant that uses dummy or contest only accounts to enter will be disqualified.
15 Apr 2015
Review: Hush by Stacey R. Campbell
Series:
Lakeview #1
Publication: November 15th 2012 by Green Darner Press
Genre: Young Adult, Contemporary, Romance
Edition: Kindle
Rating:
For small-town girl Blakely Henry, any hope of finding her biological parents died when she stopped believing in fairy tales and Disney princesses. That is, until she spots her boarding school's new British exchange student, Max Ryder, staring at her. Why would a boy who looks like he stepped out of the pages of a magazine be looking at her? Because Max knows something Blakely doesn't.

Following the tragic demise of one of Europe's most beloved royal families, Max has stumbled upon information he thinks may lead to a lost royal heir, and now he is on a quest halfway around the world to see if he's right.

Sworn to secrecy by his university professor and the headmaster of Lakeview Academy, Max is admitted into an exchange program with the sole purpose of finding out the truth. But will his personal feelings for Blakely get in the way?

When a stolen email surfaces, Blakely and her friends' lives are threatened, and Max starts to question what he is really after.

From the exclusive rolling lawns of Canada's most prestigious boarding school to the University of Saint Andrews' hallowed grounds, Blakely's quiet, unassuming life is turned upside down. Is she really who she thinks she is? Can she survive long enough to help Max unearth the truth?
When you read the above synopsis before reading the book, of course, it is a major turn-off (I guess for most.) The idea is way too common on royal family stories: The princess was lost. The princess was adopted. The princess knew her identity. The princess lives in the castle. The princess married a prince. The end. But that is old school and in Hush, the princess did not marry a prince.
For the reason (too) that the synopsis tells it all, I never knew how to review this book, so this would not be an interesting review at all because it would just be short. *Disappointed.* Sorry people.
Characters: Blakely Henry. The princess who was born from the unacceptable love of her royal mother and son-of-the-royal-family-chauffeur father and was then the first adopted daughter of the Henry's. Hush circles around her sweet life. She's loving to her family especially to her younger sister (also adopted) even though she knew that she's not from their own flesh. Also, Max Ryder. You. Freaking. Gorgeous. Can you MAXimized your hotness? (Sorry for that lame line.) This boy came from the other side of the world just to investigate Blakely's history but things went ... Uhh. Henry's! They are very cherubic. Mr. and Mrs. Henry are, well, the best parents you will ever had. They have raised their adopted daughters right — never spoiled them to eat a jar full of cookies. To the students, faculties and dorm parents — they are way too perfect and kind for a YA contemporary (?).
Plot: OLD-HAT.
Romance: This is the cutest parts of Hush! I squeal. I jump out of my chair. I grin. Whatever you do when you are kini-kilig! KILIG. noun. It is the sudden feeling of an inexplicable joy one gets when something romantic or idealistic occurs. Guys, this is the Tagalog word for the FEELS you feel! Blakely and Max are just perfect for each other. *Sighs with glittery eyes.* Just the right amount of romance.
Setting: Lakeview Academy! Oh, yes. I am imagining a modern-ish boarding school with green field and lovely students. Tamura? It's Buckingham Palace type to me. OH LONDON LOVE.
Overall: You will be in need of 'more'... Definitely more of Blakely and Max. It's a coy, fun and fast read. Hush is perfect for readers who love feels overload and quick contemporary royal reads even with a mete of cliché.
Interested to read 'Hush'?
Purchase it at: Book Depository, Amazon, B&N

Source: Netgalley · I received a free copy of this book in exchange for an honest review.
This does not affect my opinion of the book or the content.
13 Apr 2015
Blitz: Scar of the Bamboo Leaf by Sieni A.M.
Published: July 9th, 2014
Genre: Young Adult, Realistic Fiction, Romance
Purchase on:
Amazon
"That boy is like the bamboo...foreign and unknown in this environment. But like the bamboo, if you plant and nurture it in the right soil, it has the potential to grow vibrant and strong."
Walking with a pronounced limp all her life has never stopped fifteen-year-old Kiva Mau from doing what she loves. While most girls her age are playing sports and perfecting their traditional Samoan dance, Kiva finds serenity in her sketchbook and volunteering at the run-down art center her extended family owns, nestled amongst the bamboo.
When seventeen-year-old Ryler Cade steps into the art center for the first time, Kiva is drawn to the angry and misguided student sent from abroad to reform his violent ways. Scarred and tattooed, a friendship is formed when the gentle Kiva shows him kindness and beauty through art, until circumstances occur beyond their control and they are pulled away. Immersed in the world of traditional art and culture, this is the story of self-sacrifice and discovery, of acceptance and forbearance, of overcoming adversity and finding one's purpose. Spanning years, it is a story about an intuitive girl and a misunderstood boy and love that becomes real when tested.
Read An Excerpt
"How did it go today?" Kiva asked as she moved closer to her uncle.
In front of her laid eleven slabs of dark wood, not smooth like a dining room table's but jutted and ragged in places. She recognized the shapes of incomplete patterns, some more defined than others.
"It was interesting," he said almost to himself. "Some of the students took to it like they'd been carving most of their lives. Others had a harder time grasping an idea for themselves."
Kiva scanned each slab carefully, some impressing her with their arcs and straight lines, and attempted to guess the work of the boy with the mysterious tattoo. Her instincts led her to one and she paused.
She stared unblinking. And read. And reread the sentence again.
This is stupid.
Her eyes narrowed at the words, a slashing of letters that looked almost like graffiti, the lack of care and respect evident in the way he had deliberately scarred the wood. She couldn't help but feel a burn igniting on the inside. Why didn't her uncle stop this? She wondered briefly what he would do, how he would handle this at the next class.
Mau shook his head and chuckled beside her, taking her by surprise. She swung her head to him.
"How is this funny?" she asked, concerned for the challenge ahead of him.
Her uncle wiped the sweat from his brow. "He has guts, I'll give him that."
"What are you going to do? You can't accept this." Kiva waved a hand in its direction as if to make it disappear off the table.
"Don't be upset, Kiva. I asked these students to tell a story, their story. It can be a very personal thing to do. If this boy, Ryler, has a hard time telling it, then he just needs time. Anger usually veils itself as fear. He will come around. He just needs a little time. A little direction."
Kiva's mind tried to process her uncle's words, but it lingered on his name. Ryler. So his name was Ryler. "How are you not upset about this? He's disrespected you," she retorted.
Mau's mouth twisted to the side like a shrug. "It could have been worse."
"How?"
"He could have carved, 'This is effing stupid.'"
Sieni A.M. is a coffee addict, world traveler, and avid reader turned writer. She was born and raised in the South Pacific, graduated from the University of Canterbury, and is currently living in a port city near the Mediterranean with her husband and two daughters.
Website
-
Goodreads
-
Facebook
Tour organized by:
YA Bound Book Tours
7 Apr 2015
Book Tour Review: The Blast by Sarah Perlmutter
Title: The Blast
Author: Sarah Perlmutter
Published December 15th 2014 by Sarah Perlmutter
Genre: Young Adult, Dystopia
Rating:
After a series of blasts force Beatrice Hicks and her family into their prepper bunker, they emerge to discover they are among the survivors of a nuclear apocalypse. Fighting against rogue groups and coping with deaths are just some of the adjustments Beatrice must make to survive, but how will she maintain her humanity after the blast?
Interested to read The Blast? Buy it at: Amazon
Praise for The Blast
"This is the most impressive and heartfelt apocalypse story I've ever read in my life!"
"A real tour de force… [It's] refreshing to have a YA book which focuses on the important things in a person's life – family, love and death."
"What a beautiful story. A wonderful look at the human ability to survive, rebuild, and grow through survival."
"One of the best post-apocalypse stories I have read."
"This book easily stacks up against my favourites and has an originality that many books seem to lack these days. [The] writing style is impeccable and this book is utterly breathtaking!"
What would you do when the world is ending? Of course, the first thing we think of is our
family
. We will get them safe. Hide for our lives. Get everyone in the basement. And,
hope
that tomorrow you and your family will get rescued. But to Beatrice Hicks, it's different.
Beatrice ran on their farm's field noticing a big firework on the horizon, as a ten year old girl would describe, but it was a nuclear bomb that changed everyone's lives. Her family made each other safe on their bunker including her bestfriend Ellie and her dad. They waited for the world to calm but things are just getting worse. The parents were eager to keep their family safe with loads of guns and ammo
but
it ended in a twist...
Through the words that came from Beatrice's mom,
"Be brave."
, she changed. Bea have lost her ten year old self and become the girl you would never think of. She thought it as her time to be brave. The time to protect her family. She then exploded and went blank. There was nothing else before her but what she needed to do. Beatrice have done the most violent thing a girl could do
—
KILL. Not just one but three.
Every atom that became part of me felt like a cancer, burrowing deeper into my body with its rot.
The world was black and grey, not pink. Not airy. Not full of niceties and parties and dolls. Instead, it was full of ash and corpses and guns.
Told by the voice of Beatrice Hicks, a girl who have transformed in one pull of the trigger,
'The Blast' is set to nurture us with love, family, self-reliance, perfidy, and between death and happiness.
It delineates the life of Beatrice and the people around her for five years of post-apocalypse and is bound to left readers a breathtaking read.
Perlmutter wrote
The Blast
letting Beatrice Hicks
find something else in the broken world to believe in.
It is an astounding read for everyone who loves turns and dystopia.
Sarah Perlmutter is the Wattpad featured author of THE BLAST, a young adult post-apocalypse novel. Outside of the young adult genre, Sarah has published poems and flash fiction through Mash Stories, Millennial Garbage, the Pittsburgh History and Landmark Foundation, and the Western Pennsylvania Writing Project. When she is not writing, Sarah enjoys spending time with her husband and cat, cooking food that is far too spicy, making arts and crafts, and teaching high school English.
For more information about Sarah and her writing, check out her
website
or link with her on
Goodreads
,
Twitter
,
Facebook
and
Pinterest
.
The Blast tour is organized by
YA Bound Book Tours
for Sarah Perlmutter. This tour runs from April 6th to April 10th. Click on the tour banner to check out the full blog tour schedule. Blogs included on the tour offers reviews, promo posts, excerpts, and more!
2 Apr 2015
Review: Vivian Apple at the End of the World by Katie Coyle
Series: Vivian Apple #1
Publication: January 6th 2015 by HMH Books for Young Readers
Genre: Young Adult, Dystopia
Format: ARC
Rating:
Seventeen-year-old Vivian Apple never believed in the evangelical Church of America, unlike her recently devout parents. But when Vivian returns home the night after the supposed "Rapture," all that's left of her parents are two holes in the roof. Suddenly, she doesn't know who or what to believe. With her best friend Harp and a mysterious ally, Peter, Vivian embarks on a desperate cross-country road trip through a paranoid and panic-stricken America to find answers. Because at the end of the world, Vivian Apple isn't looking for a savior — she's looking for the truth.
Religion, color, gender and race differentiate us all. White, black, brown, Catholic, Muslim, Jewish, gay, lesbian, you name it, it's one of the world's biggest problem. We are discriminated by it. Because you are black, you don't belong to white. Because you're Asian, you don't belong to America. Because you're a Muslim, it's hard for you to apply for a work. Because you're a woman, you can't be a chemical engineer, it's a man's job. Because you're man, you can't marry another man. But in the end, we still live only in our beliefs and we survive. We don't want to be offended on how we live our lives, on how we choose our paths. It's us, it's mine, it's yours. It's just that differentiation exist and we can't escape from it.
Vivian Apple turned out to be a girl who live on what she believes. She has no religion to trust her faith unto but only herself. She has her Indian-American bestfriend Harp who believes what Vivian believes. These girls did not show enthusiasm to the outspread Believer phenomenon but both their parents do. After the Rapture, Viv's eagerness to know where her parents broke loose. She started to wander the interstate with Harp and an orphic friend, Peter.
On finding for the truth, Vivian showed her keenness. She's a strong willed seventeen-year-old girl with an unforced support of Harp, who, at the same time is potent. Peter, a mysterious type of a character, showed doubtful feelings to Vivian. The three demonstrated how questionable the line between fact and fiction. Only that this Believer cult lead them non-Believers to suffer from hunger, threats and even death.
Coyle wrote Vivian Apple at the End of the World fairly. It was to show one's belief. Not only from Vivian's perspective but also from the adults around her. Wambaugh happens to be a teacher of Viv who she loves the most because of her fair-mindedness.
Written with friendship and empowered youth, and lies hidden from parents and nation betrayal, Vivian Apple at the End of the World is an original crisp of YA Dystopia. Perfect for readers with a taste of wittiness and love for a chilling sight of secularization and gender discrimination.
Interested to read 'Vivian Apple at the End of the World'?
Source: Author and Publisher · I received a free copy of this book in exchange for an honest review.
This does not affect my opinion of the book or the content of my review.
1 Apr 2015
Stacking The Shelves #4
Stacking The Shelves is all about sharing the books you are adding to your shelves, may it be physical or virtual. This means you can include books you buy in physical store or online, books you borrow from friends or the library, review books, gifts and of course ebooks! Click on the photo above to find out more about STS.