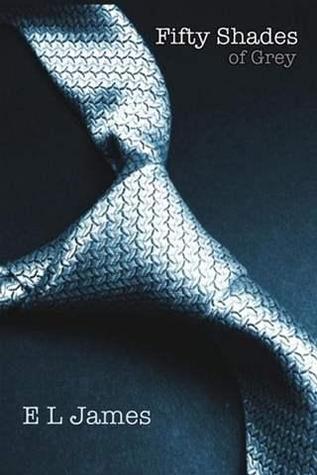 Title: Fifty Shades of Grey (
Fifty Shades #1
)
Author: E. L. James
Publication: May 25th 2011 by Vintage
Format: eBook, 385 pages
Genre: Romance; Adult Fiction
Purchase book at: Book Depository; Amazon
Synopsis: (From Goodreads)
When literature student Anastasia Steele goes to interview young entrepreneur Christian Grey, she encounters a man who is beautiful, brilliant, and intimidating. The unworldly, innocent Ana is startled to realize she wants this man and, despite his enigmatic reserve, finds she is desperate to get close to him. Unable to resist Ana's quiet beauty, wit, and independent spirit, Grey admits he wants her, too—but on his own terms. Shocked yet thrilled by Grey's singular erotic tastes, Ana hesitates. For all the trappings of success—his multinational businesses, his vast wealth, his loving family—Grey is a man tormented by demons and consumed by the need to control. When the couple embarks on a daring, passionately physical affair, Ana discovers Christian Grey's secrets and explores her own dark desires.

This book is intended for mature audiences.
Fifty Shades of Grey circles two people—Anastasia Steele who was an English literature student and Christian Grey , the CEO of Grey Enterprises Holdings, Inc. *Spoiler alert.* They first met when Ana's roommate, Kate, was sick and unable to interview Christian for the student newspaper. Christian by that time was daunting. They fall to their smart mouths when Ana questioned Christian if he was a gay. And… The story goes.
My friend, Angelie, has read this book and recommends it to me. She knows that I am partial to this kind of hold.
Icky this book! I do not why but it made me cry for nights! Maybe because I was hurt like Ana when she was not able to have more? You know my more is not like Ana's cravings when she's around with Christian and not able to eat. My more is the love. The relationship you would expect to normal people.
The words on this book are denotative or shall I say having the power of explicitly denoting, designating or naming. I scream to the top of my lungs, "I DID NOT EXPECT WHAT I EXPECTED!!!" It was highly offensive that it causes me nausea. Queasy enough. Loathful also in particular way. I do not feel much antipathy or aversion towards the book because of the excitement I did experience while reading it. The excitement I mean is that what will happen to the two at the end apart from their playroom relationship. That, Red Room of Pain relationship of them, what makes me barf.
Besides the poignancy of the book, I see it funny and mirthful. Like the others reviews on Goodreads, I do not find it totally clodhopping.
Fifty Shades of Grey is a page ferment. Go sour or spoil.