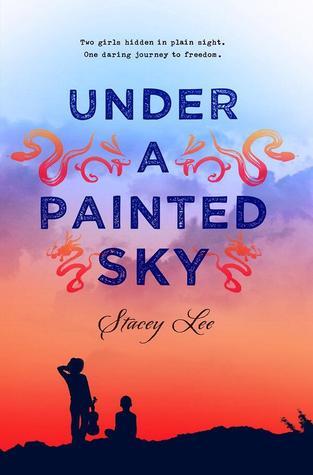 Expected publication:
March 17th 2015 by Putnam Juvenile
Genre:
Young Adult; Historical Fiction
A powerful story of friendship and sacrifice, for fans of Code Name Verity
Missouri, 1849: Samantha dreams of moving back to New York to be a professional musician—not an easy thing if you're a girl, and harder still if you're Chinese. But a tragic accident dashes any hopes of fulfilling her dream, and instead, leaves her fearing for her life. With the help of a runaway slave named Annamae, Samantha flees town for the unknown frontier. But life on the Oregon Trail is unsafe for two girls, so they disguise themselves as Sammy and Andy, two boys headed for the California gold rush. Sammy and Andy forge a powerful bond as they each search for a link to their past, and struggle to avoid any unwanted attention. But when they cross paths with a band of cowboys, the light-hearted troupe turn out to be unexpected allies. With the law closing in on them and new setbacks coming each day, the girls quickly learn that there are not many places to hide on the open trail.
This beautifully written debut is an exciting adventure and heart-wrenching survival tale. But above all else, it's a story about perseverance and trust that will restore your faith in the power of friendship.
THEY SAY DEATH AIMS ONLY ONCE AND NEVER misses, but I doubt Ty Yorkshire thought it would strike with a scrubbing brush. Now his face wears the mask of surprise that sometimes accompanies death: his eyes bulge, carp-like, and his mouth curves around a profanity.
Does killing a man who tried to rape me count as murder? For me, it probably does. The law in Missouri in this year of our Lord 1849 does not sympathize with a Chinaman's daughter.
I shake out my hand but can't let go of the scrubbing brush. Not until I see the blood speckling my arm. Gasping, I drop the brush. It clatters on the cold, wet tile beside the dead man's head. An owl cries outside, and a clock chimes nine times.
My mind wheels back to twelve hours ago, before the world turned on its head . . .
I surprisingly listened to a lot of country music. I was never a fan of country music until my husband and I celebrated an anniversary on the island of Kauai, where the only radio station on the island is country. I was in the middle of a major revision at the time, and so the songs were the perfect backdrop for the story, which takes place in the western frontier and features cowboys.
Take A Back Road, Rodney Atkins
Crazy Girl, Eli Young Band
Barefoot Blue Jean Night, Jake Owen
Remind Me, Brad Paisley
Let it Rain, David Nail
White Liar, Miranda Lambert
I like the idea of your book when Annamae and Samantha disguised themselves as boys! Can you dare to do this too in a book signing soon?
Disguise myself as a boy? Honestly, some days I look down at what I'm wearing and I can't tell if I'm a man or a woman. . . basic sweats, T-shirt. I will try to put a little more effort into my book signings though. :)
What exciting adventure and heart-wrenching survival tale can you share with us?
Thank you so much Miss Stacey for sharing time with us! It would really turn out good in the end for your book is a five-star highlighter on Goodreads by now.
This giveaway is open INTERNATIONALLY. You must be 13 years old and above. Use the Rafflecopter below to gain entries. The contest will end on December 30, 2014. Winner will be notified through e-mail. Winner will also be announced on this post via update. If winner has not responded within 48 hours, we will choose another. Enjoy!
a Rafflecopter giveaway
_______________________________________________________________________________
Winner Update

Congratulations Michelle Lee!
You WON the Under A Painted Sky ARC Giveaway.
Please e-mail me your complete name and mailing address at eeliahgem@gmail(dot)com.
Thank you!

Thank you for everyone that participated! Until next time. <3
_______________________________________________________________________________