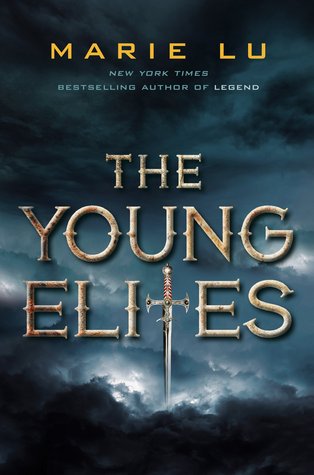 Genre:
Fantasy; Young Adult; Dystopia
Published October 7th 2014 by G.P. Putnam's Sons Books for Young Readers
I am tired of being used, hurt, and cast aside.
Adelina Amouteru is a survivor of the blood fever. A decade ago, the deadly illness swept through her nation. Most of the infected perished, while many of the children who survived were left with strange markings. Adelina's black hair turned silver, her lashes went pale, and now she has only a jagged scar where her left eye once was. Her cruel father believes she is a malfetto, an abomination, ruining their family's good name and standing in the way of their fortune. But some of the fever's survivors are rumored to possess more than just scars—they are believed to have mysterious and powerful gifts, and though their identities remain secret, they have come to be called the Young Elites.
Teren Santoro works for the king. As Leader of the Inquisition Axis, it is his job to seek out the Young Elites, to destroy them before they destroy the nation. He believes the Young Elites to be dangerous and vengeful, but it's Teren who may possess the darkest secret of all.
Enzo Valenciano is a member of the Dagger Society. This secret sect of Young Elites seeks out others like them before the Inquisition Axis can. But when the Daggers find Adelina, they discover someone with powers like they've never seen.
Adelina wants to believe Enzo is on her side, and that Teren is the true enemy. But the lives of these three will collide in unexpected ways, as each fights a very different and personal battle. But of one thing they are all certain: Adelina has abilities that shouldn't belong in this world. A vengeful blackness in her heart. And a desire to destroy all who dare to cross her.
It is my turn to use. My turn to hurt.
Click on the banner for the tour schedule.
Read an excerpt:
Ugly red bruises circle the consort's lower neck, as if someone as tried to choke him. Only now, as Enzo touches Raffaele's chin and titls his face in the direction of the light, does the faint purple bruising at the edges of his lips become noticeable.
Enzo looks Raffaele in the eyes. "Did one of your clients do this to you?"
Raffaele's eyes stay downcast. He adjusts his collar back into place, then brushes his hair across one shoulder in a glossy rope. He says nothing, knowing that his silence answers Enzo's question.
"Tell me the name," Enzo murmurs.
Raffaele doesn't speak for a moment. Most of his clients are gentle with him, even in their passion. But not at all. Memories from earlier in the evening return, memories of rough hands on his neck, shoving him against the wall, striking his face, insults whispered harshly into his ear. It happened on very rare occasions, and he did not like troubling Enzo with the details. Raffaele's work is important to the Daggers, after all – he might not have the same powers that the others do, but while his power cannot kill, it does hypnotize. Many of his clients fall so feverishly in love with him that they become loyal patrons to the Daggers. Political alliances are made in his bed.
Still. The work come with its dangers. I should tell my madam first; she will privately fine my client for his abuse and ban him from seeing me. Instead, he meets Enzo's gaze. His gentle heart hardens. But not this time. Some deserve punishment greater than a fine. "Count Maurizio Saldana," he replies.
Enzo nods once. His expression doesn't change, but the scarlet streaks in his eyes bun bright. He presses a gloved finger against Raffaele's chest. His voice is a quiet command. "Next time, do not keep secrets from me."
***
The next morning, Inquisitors find Count Maurizio Saldana's dismembered body nailed to his front door, his mouth suspended in a scream, his corpse burned black beyond recognition.


Win One SIGNED copy of
THE YOUNG ELITES by Marie Lu