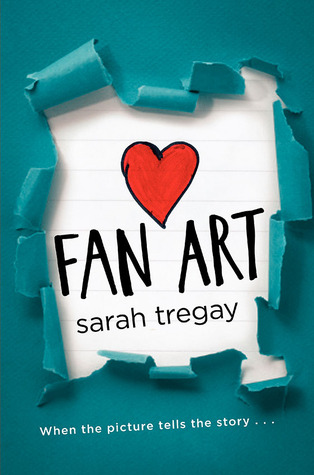 Title:
Fan Art
Author:
Sarah Tregay
Publication:
June 17th 2014 by Katherine Tegen Books
Genre:
Young Adult
Format:
ARC, 368 pages
Source:
Pinoy Book Tours
Purchase at:
Book Depository
Senior year is almost over, and Jamie Peterson has a big problem. Not college—that's all set. Not prom—he'll find a date somehow. No, it's the worst problem of all: he's fallen for his best friend. As much as Jamie tries to keep it under wraps, everyone seems to know where his affections lie, and the giggling girls in art class are determined to help Jamie get together with Mason. But Jamie isn't sure if that's what he wants—because as much as Jamie would like to come clean to Mason, what if the truth ruins everything? What if there are no more road trips, taco dinners, or movie nights? Does he dare risk a childhood friendship for romance?
Warning: I might spoil you with this review but I am so eager to share this to everyone! Most of the post contains notes from my reading…
On the first two chapters, I did not get the point of Jaime. What is he really up to on narrating his doings everyday without the presence of Mason? It is just so lame to think that I am not getting any interest. There's no thrill to me… If I was not just thinking about the synopsis from the back of the book, the phrase from the front and also my interest on LGBT characters and arts, I would have put this book down. Sorry.
But when Jamie and Mason did there zigzagging moment in the gym… Uh-oh, my feels, it started then! My delirium is bugging out! Well, it is not normal for a boy and a boy to act like they are boy and girl sort-of friends. Do you get my idea? Just totally gay and I weirdly like it. I did then thought of Mason, is he somewhat like Jamie, too?
As I read on, Jamie's mom knew that he was gay. But how about Mason? Does he know? It confused me. No matter, I love how Jamie's mom and stepdad accepted him when he told them he is a gay.
Since Jamie is a staff of their school magazine, he works for the graphics and layouts. And… YOU. HAVE. TO. SEE. THE. DRAFT. OF. CHALLIS!!! *You have to read the book. You have to read the book. Hahaha!*
Sorry about that.
But there came a dead-problem on Jamie about what Challis submitted. I agree that the graphic short should not suppose to be in the literary magazine but in the sense that it is literature noun: Published writings in a particular style on a particular subject. It is democracy that talks to me on this. I have this belief that anyone could speak their mind—professional or non-professional and on any medium. Freedom of speech. I think there is no problem to express your feelings. It is up to the people who read it and judge it. Judge it anyway, but you cannot conceal any piece of impression especially if you work on a literary magazine or any medium that expresses all.
I really love that Jamie and Mason went to a road trip… It is like an unconscious date for them. I am really confused on what does Mason feels for Jamie. What's up, Mason? What's up?! This is getting excited and I was right to give it a try.
Anyway, the best poem I have read from Fan Art was At Night I Dream… It was an open-minded impartiality. It speaks for the unspoken feelings and I deeply fell for it.
Did I say earlier that the best poem I have read from this book was At Night I Dream? Pipsqueak me! I did not expect who wrote it. I did not have any idea at all and this makes the book so good after all! *Whispers.* It is really good at keeping secrets.
Fan Art was a total fun and amazingly impressive. It opens the readers mind, LGBTs and homophobic and/or neutral, on how a person gets out from their closet, on how still you have friends even so you went out from your closet, and on how not all people still accepts those hearts are different from their physical appearance. It is a worth read anyway especially that it made me leap on the last chapters. But I warn you, if you are not interested on reading LGBT books like Fan Art, please, please, do at least open your mind for this because it is unlike on what you think of. I swear to you. Thumbs up to this book!
HI THERE! Thank you for taking time reading my review for the blog tour of Fan Art. A big thank you to Pinoy Book Tours for this. Anyway, here is the blog tour schedule:
FAN ART by Sarah Tregay
July 7 to 11, 2014
July 7
Jayvee of Writer for Misfits - Review
Maricar of blackplume - Interview
July 8
Janice of Roller Coaster Ride - Review
The Bookwhore Diaries - Excerpt
July 9
Algel of Tea-rrific Reads - Review
Biena of Library Mistress - Excerpt
July 10
Michelle of The Escapist - Review
July 11
Kate of The Bookaholic Blurbs - Review
a Rafflecopter giveaway