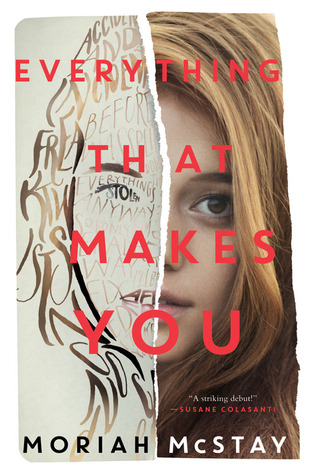 Expected Publication: March 17th 2015 by Katherine Tegen Books
Genre: Young Adult; Contemporary; Fiction
One girl. Two stories. Meet Fiona Doyle. The thick ridges of scar tissue on her face are from an accident twelve years ago. Fiona has notebooks full of songs she's written about her frustrations, her dreams, and about her massive crush on beautiful uber-jock Trent McKinnon. If she can't even find the courage to look Trent straight in his beautiful blue eyes, she sure isn't brave enough to play or sing any of her songs in public. But something's changing in Fiona. She can't be defined by her scars anymore.
And what if there hadn't been an accident? Meet Fi Doyle. Fi is the top-rated female high school lacrosse player in the state, heading straight to Northwestern on a full ride. She's got more important things to deal with than her best friend Trent McKinnon, who's been different ever since the kiss. When her luck goes south, even lacrosse can't define her anymore. When you've always been the best at something, one dumb move can screw everything up. Can Fi fight back?
Hasn't everyone wondered what if? In this daring debut novel, Moriah McStay gives us the rare opportunity to see what might have happened if things were different. Maybe luck determines our paths. But maybe it's who we are that determines our luck.
"Maybe luck determines our paths. But maybe it's who we are that determines our luck." When did you first know that you wanted to be a writer? Have you had other jobs along the way?
Oh, I've had SO many jobs! I've worked in finance, state government, at a school. I've done fundraising and worked for non-profits. I ran a program for Memphis's homeless persons. But I wanted to be a writer since I was a teenager. I went to college (Northwestern University) with a declared Creative Writing major. I still can't explain how I graduated with a degree in Economics. In retrospect, it was a crazy thing to do. I do NOT have a math brain. I plugged along though—even went to grad school. It took me a long time before I remembered I wanted to write.
My story has a familiar arc with ETMY, doesn't it? I think all of us have those moments in our lives—decisions or events that change our trajectory. While I wish I'd figured out about writing earlier, I don't regret all the other choices. I met my husband at that first econ-related job—an investment firm. We've got three great kids, so I'll never look back on all my meandering and wish I'd done it differently.
Everything That Makes You has a good writing POV. How did you come up with Fiona and Fi? Do you see yourself as Fiona or Fi?
I'm glad you liked the POV! I came up with this idea AGES ago. When I was little, I got into an accident that left me blind in one eye. While it wasn't a major hardship, it definitely impacted how I viewed myself. It made me self-conscious about my looks—but strong in personality. I always wondered, what if that never happened? What hang-ups would I have then? Would I like that girl more or less?
When I remembered I wanted to be a writer, I came back to this idea. At first, I definitely identified more with Fiona. But after lots of revisions and character development, she turned into her own person. She and I don't have much in common in anymore. (For example, I don't have stage fright or a guilty brother or a mother who wanted to turn me into a southern priss!) Now I love them both, but not because they're me. They're these cool, awesome girls who struggle and love and try to be the best people they can, just like the rest of us!
More from Moriah!
I just finished my yoga certification, so now I'm a yoga teacher (yet another job!) I have an aerial yoga sling in my office. Whenever I'm overwhelmed with revisions, I hang upside down like a bat!
I had a few go-to playlists for
ETMY
. I imagine Fiona would like female alternative artists like Cat Powers, Amy LaVere and Neko Case, so I listened to a lot of them. Landon Pigg's "Falling in Love at a Coffee Shop" is perfect. The Mynabird's "We Made a Mountain" feels like a song Fi and Fiona would share with each other, if they could.
I don't want to give anything away, but there's a scene I love that ends with this line: Be who you are. That's the basic message of ETMY, I think. We all go through bumps and detours and unexpected things. We get diverted or find ourselves in a place we never planned. As long as you like who you are, it's all good!
What else can we say? This book has a great cover! I cannot wait to have a copy of Everything That Makes You. Thank you so much Miss Moriah for providing us a read to grab soon!
This giveaway is open for US only. You must be 13 years old and above. Use the Rafflecopter below to gain entries. The contest will end on December 30, 2014. Winner will be notified through e-mail. Winner will also be announced on this post via update. If winner has not responded within 48 hours, we will choose another. Enjoy!

_______________________________________________________________________________
Winner Update

Congratulations Amanda Machonis!
You WON the Everything That Makes You (US Only) ARC Giveaway.
Please e-mail me your complete name and mailing address at eeliahgem@gmail(dot)com.
Thank you!

Thank you for everyone that participated! Until next time. <3
_______________________________________________________________________________