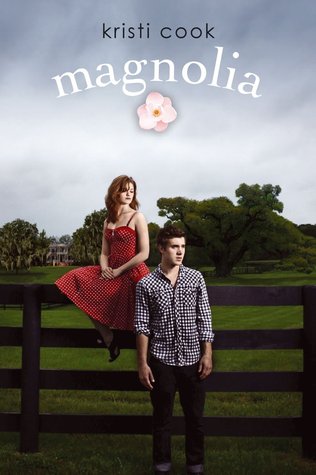 Title: Magnolia
Author:
Kristi Cook
Publisher: Simon Pulse
Date of Publication: August 5, 2014
In Magnolia Branch, Mississippi, the Cafferty and Marsden families are southern royalty. Neighbors since the Civil War, the families have shared vacations, holidays, backyard barbecues, and the overwhelming desire to unite their two clans by marriage. So when a baby boy and girl were born to the families at the same time, the perfect opportunity seemed to have finally arrived.
Jemma Cafferty and Ryder Marsden have no intention of giving in to their parents' wishes. They're only seventeen, for goodness' sake, not to mention that one little problem: They hate each other! Jemma can't stand Ryder's nauseating golden-boy persona, and Ryder would like nothing better than to pretend stubborn Jemma doesn't exist.
But when a violent storm ravages Magnolia Branch, it unearths Jemma's and Ryder's true feelings for each other as the two discover that the line between love and hate may be thin enough to risk crossing over.

"Look," he says, pointing toward the sky. "Right there—that's Venus. Just above and to the right of the moon. See it?"
I release my knees and brace my hands against the ground as I gaze up at the spot he's indicating—at what looks like a bright, twinkling star. "That's Venus? You sure?"
He nods. "And see that, up higher and off to the left? That's Saturn."
"Cool," I say. "You were always good with that stuff—stars and planets." He'd spent our entire childhood pointing out constellations in the night sky that I could never quite make out—things that were supposed to look like bears or dragons or what have you. To me they were just…stars.
For a moment we just sit there silently, our heads tipped back as we stare at the sky. A minute passes, maybe two. And then Ryder's hand grazes mine before settling on the ground, our pinkies touching.
I suck in a breath, my entire body going rigid. I'm wondering if he realizes it, if he even knows he's touching me, when just like that, he draws away.
Blog Tour Schedule
August 5
Michelle of The Twins Read
- Review
Kayla of The Bookish Owl
- Excerpt
August 6
Diana Grace of Chaotic Reader
- Review
Lyra of Defiantly Deviant - Review
August 7
Michelle of The Escapist - Spotlight
Yani of Paper Boulevard - Excerpt
<-- You are here!
August 8
Camille of Girl Meets Books - Review
Miguel of The Quirky Reader - Review
August 9
Rachel of My Book Empire - Excerpt
Biena of Library Mistress - Excerpt
Thank you to Kristi, Simon and Schuster and Edelweiss for the review copies! From
Pinoy Book Tours
and the tour hosts!