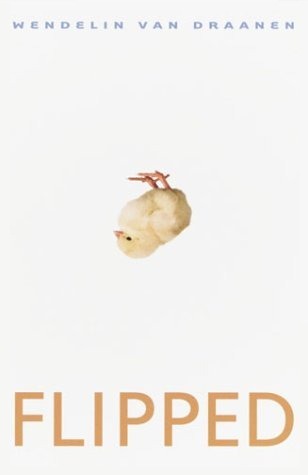 Title:
Flipped
Author:
Wendelin Van Draanen
Publication:
May 13th 2003 by Ember (first published October 1st 2001)
Genre:
Young Adult
Format:
Paperback, 212 pages
Flipped is a romance told in two voices. The first time Juli Baker saw Bryce Loski, she flipped. The first time Bryce saw Juli, he ran. That's pretty much the pattern for these two neighbors until the eighth grade, when, just as Juli is realizing Bryce isn't as wonderful as she thought, Bryce is starting to see that Juli is pretty amazing. How these two teens manage to see beyond the surface of things and come together makes for a comic and poignant romance.
I cried a lot on this book. I think I cried on every chapter? My God. I am sorry for I am terrible at keeping myself from crying. And this explains that Flipped is enormously good.
I have read it last year, first school semester. I did not attend a class just to read and finish the book and it was my first time to skip in college. Ha. I spent all my time at the library.
Juli and Bryce made me do it. They let me fall off their story. Juli let me climb the sycamore tree and taught me how the world is so beautiful when you are at the top. And, Bryce assured that not all boys are bitter and vain.
This would not be a long post. I wrote this because I wanted to tell everyone who has not read Flipped that this book is a fantabulous read. I sadly have known that not all book bloggers have read it. It has been a movie. I have not watched it but I can feel that the movie is as best as the book.
Awesome, amazeballs, splendid, you name it. (!!!) Flipped is the book that your time is worth on flipping its pages until the end.